UK and indeed the world has undergone a pandemic and still continues to do so.  Whilst we had been confined to our local areas I still managed to get some pictures of the visitors to my feeders during 2020 up to present time.  Unfortunately I did not have the inspiration to continue with my blogs Though I did post images to my Facebook pages.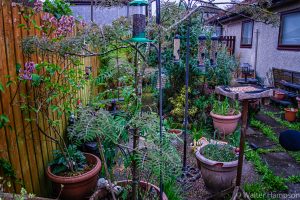 The winter of 2019/20 was a hard winter not just physically but mentally.  I struggled to come to terms with the loss my my partner and soul mate of 15 years and wife of  2.5 weeks. It is not surprising, considering the lack of attention I had given to it, the garden had run wild and overgrown.  I contacted a local builder/landscaper (Gardens R Us).  I chose them because I had seen previous work they undertook and also they supported my (our) favourite Zoo – (Five Sisters Zoo).
Later that week Brian came along and we discussed my requirements and what I hoped to achieve with respect to the revamped garden.
Must be bee friendly,
Easy to maintain and keep clean.
Be inviting to sit and enjoy.
Work began on the 14th June and completed on the 20th June 2020. A team of 5 worked for 6  days from 8am to 8 pm and on completion they handed back to me a little paradise. The garden had a complete makeover and exceeded my expectations.  I felt sure that Susan would have been overjoyed with the revamped garden.  I know I did.
Coming up Next – a review of the visitors to the revamped garden and bird feeders during 2020